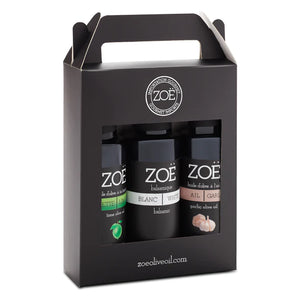 Our extra virgin olive oil is made from the Koroneiki olive which is considered the best Greek olive in the world. It is known for its high Polyphenols (antioxidants) and monounsaturated fats as well as the freshest and most balanced tasting oil in the world. The Koroneiki tree originates from the south west region of Messenia, the exact place where Zoë is produced.
Zoë Balsamic is the perfect blend of grape must and red wine vinegar that is aged for different periods of time in a variety of wood barrels. When blended together they create a sweet and tangy Balsamic Vinegar. The product is produced from the juice of just-harvested white grapes (typically, Trebbiano grapes) which are then fermented with a slow ageing process which concentrates the flavors. The flavour intensifies over the years, the vinegar being stored in wooden casks becomes sweet, viscous and very concentrated.
The bottles are chosen at Zoë's discretion.