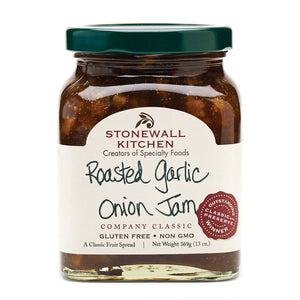 If you've never tried onion jam, you don't know what you're missing! Using a delicious combination of slow-roasted garlic, sweet onions and balsamic vinegar, our Roasted Garlic Onion Jam delivers a savory balance and a harmony of flavors. This garlic onion jam is great for glazing vegetables or combining with cream cheese for a flavorful bread topping. You'll be putting it on everything from breakfast to dinner before you know it. Our Roasted Garlic Onion Jam also won the award for Outstanding Classic Preserve.
Winner of the Outstanding Classic Preserve Award
Nutritional Info for Roasted Garlic Onion Jam
Ingredients
Roasted Garlic and Onions, Pure Cane Sugar, Balsamic Vinegar, White Vinegar, Fruit Pectin, Citric Acid, Spices.
Gluten Free
NON-GMO