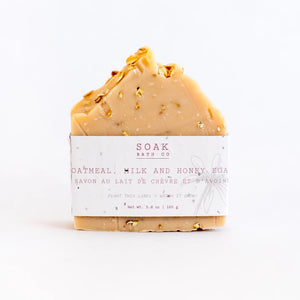 The Oatmeal, Milk and Honey Soap bar smells neutral and cozy. Think newborn baby smell meets the sweetness of fresh poured honey. Made with goat's milk that offers added nourishment to the skin it's a go-to for everyday use. Whole oats are folded into the bar for gentle exfoliation on the skin. 
Recommended as a body bar, hand and facial bar. 
This gorgeous bar is completely zero waste and sustainable. The label on each SOAK Bath Co bar is made of biodegradable, plantable seed paper so you can plant the label and it will grow into wildflowers! 
Bar Care: When you're ready to use your bar, slice it into three separate pieces. Use one sliver at a time while keeping the other pieces dry. This will help lengthen the life of your bar. Grab a soap saver tray to help keep your bar at it's driest between uses and prevent it from sitting in a puddle of water. 
Ingredients:
Olive Oil, Coconut Oil, Shea Butter, Avocado Oil, Castor Oil, Water, Lye, Goat's Milk Powder, Whole Oats
Plant The Label
Did you know you can plant the label on your SOAK Bath Co bar? That's right. I wanted to ensure the soap and shampoo bars within the line were eco friendly, completely zero waste and sustainable. Why contribute waste to the planet if we don't have to right?
So here are a few things you should know. The paper on each label is entirely biodegradable so the paper will decompose in the soil when planted. Each label will contain a blend of wildflower seeds. The seeds are not specific to each bar type, it is the same wildflower seed blend across the entire line of bars. 
The wildflower seed mix is hearty and capable of growing in a small container inside or outside, in a flower bed or in the garden. You can plant the entire label itself or cut it up into small pieces to disperse into different parts of your flower bed, garden or container.  
The wildflower blend contains any of the following wildflower seeds:
Bird's Eye
Clarkia
Black Eyed Susan
Sweet Alyssum
Catchfly
Snapdragon
How to plant your label:
Plant the seed paper under 1/8" of soil and water thoroughly. The seeds grow ideally in a sunny location. Keep the soil damp throughout germination and you will start to see the sprouts come through the soil. Continue to water intermittently to keep the soil damp. Voila, your wildflowers will start to grow!