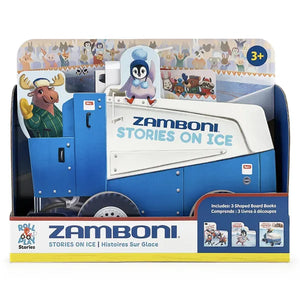 This Roll and Play Zamboni holds 3 board books! Watching the Zamboni smooth the ice is almost as much fun as watching the hockey game! Read three storybooks to see a Zamboni help the hockey team, learn how it works, and meet a little penguin who finally has a perfectly smooth skate. The Zamboni's wheels really roll! Check out more wheeled board books, hockey and sports titles, and hundreds of more beautiful kids books for your baby and toddler from Cottage Door Press! Rolling zamboni slipcase makes the perfect little library and toy!
A great birthday and holiday gift for your little hockey lover! Connect storytime and playtime for a tactile learning experience.
Moving wheels and shaped board books ideal for tactile learning and imaginative play
Three shaped sturdy board books perfectly sized for little hands and fingers to turn the pages and read along
Lively art and minimal text are ideal for keeping toddlers and preschoolers engaged and entertained
Introduce your little boy or girl to hockey and Zambonis with three fun stories: Teamwork on Ice, A Great Skate, and What is a Zamboni Machine?