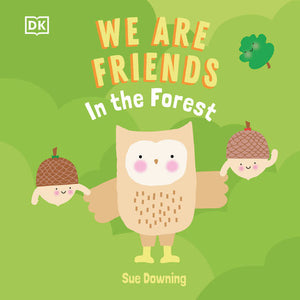 An adorable, illustrated baby book that introduces little ones to the friendships in our forests!
Introducing 
We are Friends: In The Forest -
 where your little one can get lost amongst the trees, climb high up the branches and take a sneak peek at the ground beneath them, as they wander through the forest and meet lots of new friends! Introducing babies to the idea of friendship and what it means to have a friend, as well as gently covering the great diversity of forest life, this is the perfect book for little explorers.
In the forest, everyone has a friend! The Owl is friends with the Rabbits, and the Acorns are friends with the Bear. Even the Fox has friends. Let
 your little one tag along on some awe-inspiring adventures and make friends with all the fun forest creatures along the way. 
This heartwarming storybook features:
- Six colorful spreads with adorable illustrations by Sue Downing to accompany the simple text
-  Chunky and sturdy board book with tough pages ideal for babies to grasp
- Includes a cute press out mobile, of the delightful book characters, perfect to hang over a baby's cot
Did you know that friendships help children to develop social and emotional skills? As these friendships grow, they are further taught skills such as cooperation, sharing, and empathy, among others. A must-have book for 0-3-year-olds, this baby board book is a lovely and simple introduction to friendships, forests, and the array of interesting animals that live there. The charming and captivating illustrations by Sue Downing truly bring these adorable forest animals to life, which is a crucial feature that sets this book apart from its competitors. 
The simple text will help encourage a child's language and vocabulary development, even prompting their first words! Furthermore, understanding the world is one of the seven areas of learning of the EYFS framework, and an understanding of the world develops as children are introduced to places and all the things within them such as trees and animals in the natural environment, so this book can help to support a child's early learning development. Helping children connect with nature creates future generations who are conscious of the need to protect our trees and forests too. 
The perfect storybook for children aged 0-3 with an interest in forest animals, or adults who are looking for an adorable first baby book to share with their children, and teach their little ones about kindness and friendships.