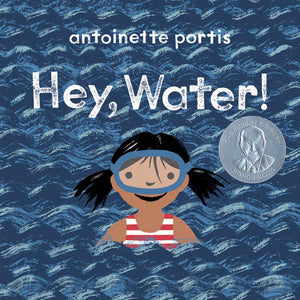 Splash! A spunky little girl plays a spirited game of hide-and-seek with water, in this gorgeously illustrated informational picture book for the very young. Now in paperback.
Hey, water! I know you! You're all around.
Join a young girl as she explores her surroundings and sees that water is everywhere. But water doesn't always look the same, it doesn't always feel the same, and it shows up in lots of different shapes. Water can be a lake, it can be steam, it can be a tear, or it can even be a snowman.
As the girl discovers water in nature, in weather, in her home, and even inside her own body, water comes to life, and kids will find excitement and joy
 in water and its many forms.
This paperback edition of the latest work from award-winning author/illustrator Antoinette Portis is an engaging, aesthetically pleasing nonfiction picture book, complete with accessible backmatter on the water cycle, water conservation, and more