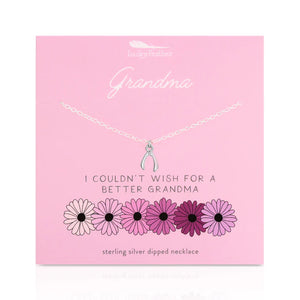 Commemorate Grandma's special day with this adorable Wishbone charm necklace in sterling silver. Lucky is what you are to have such a great grandma, and this necklace says it for you!

MORE ABOUT THE COLLECTION
Necklace comes on card printed with a heart-melting message and is adjustable 16"-18" to perfectly fit all moms. Nickel-free design is gentle and non-reactive to sensitive skin.
Materials: 14k Gold Dipped Brass
Care:
- Take off your jewelry prior to swimming or exercising, to avoid damage from water and sweat.
- To extend our jewelry's lifetime to the fullest extent, remove before applying lotions and perfumes and before bed.
- Gently clean with a soft, microfiber cloth.
- Always store in a cool, dry place.